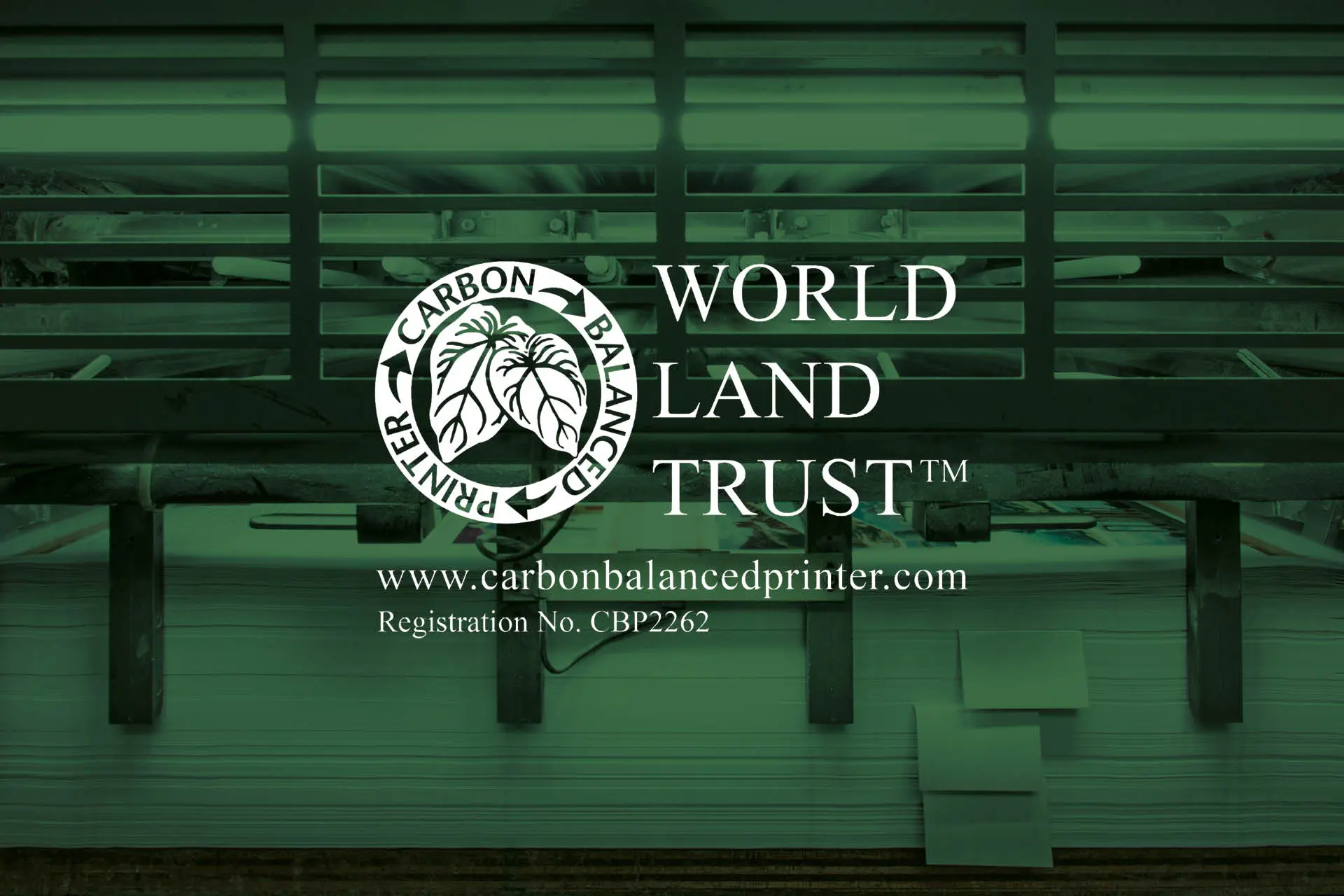 What is carbon balanced print?
Discover what Carbon Balanced Print is, and how it can benefit your business, and the environment.
Carbon Balanced Print
Carbon Balanced Print is produced by a Carbon Balanced Printer on Carbon Balanced Paper.
Carbon Balanced Print enables companies to offset (balance) the unavoidable carbon impact of their printed materials. It's a simple choice, with significant benefits.
Carbon balancing
In 2005, the international conservation charity World Land Trust established its Carbon Balanced Programme. It is an initiative that gives organisations and individuals an effective method of fighting climate change. Companies estimate the carbon impacts of a product or service. They then reduce carbon dioxide output into the atmosphere by the equivalent amount. That is Carbon Balancing.
World Land Trust works in 20 countries, including the UK. It protects and preserves more than 2 million acres of biologically significant and threatened forests and habitats. These forests absorb and store harmful atmospheric carbon dioxide (C02), generating oxygen through photosynthesis. An average tree absorbs around 10kg of carbon every year. Some mature trees can absorb as much as 38kg annually. With around 8 billion people on the planet*, trees are critical for Earth, and our, survival.
Paper is biodegradable, renewable, and recyclable. It's one of the world's greatest sustainable products, and remains important in everyday life, even during this digital age. And the world uses a lot of paper.
In 2022, an estimated 399 million metric tons of paper was consumed globally. It is predicted that demands will increase over the remainder of this decade. Estimates are that global paper consumption will reach 461 million metric tons by 2030**. How can the world hope to supply this demand?
The sustainable solution
Carbon balanced paper funds the protection and restoration of forests around the world. Using carbon balanced paper can offset unavoidable carbon emissions from the production and distribution of paper. From source to point, each step of distribution will have its emissions measured, in order to guarantee carbon balancing.
By choosing carbon balanced paper, you are demonstrating your commitment to make a positive impact on climate change and helping to address a critical threat to our living planet. You are joining an international programme that includes Sir David Attenborough and Chris Packham among its patrons. You are choosing the sustainable paper solution.
The final piece
To achieve Carbon Balanced Print, you need a Carbon Balanced Printer. Carbon Balanced Printer accreditation recognises excellence in environmental performance across a print company's entire operations and its services. The UK has only a handful of certified Carbon Balanced Printers. Galloways is one of them.
We are proud to be one of only 24% of UK businesses actively measuring average carbon emissions. We don't stop there, either. We go further, by offsetting – balancing – the impacts of our business carbon emissions through our partnership with World Land Trust. We can also carbon balance the paper we buy on behalf of our customers.
Become a carbon balanced client
When you choose to work with us, you are choosing to work with leaders in print sustainability, who can help you meet your carbon objectives, and protect the planet.
Carbon balancing is a simple choice that helps meet Environmental, Social and Corporate Governance commitments. We can provide our customers valid data to help measure their own net-zero strategy. Data can be used for official carbon recording purposes, but only when in line with ISO14001. We can even tell you what your impact could have been if you'd already made the switch to Carbon Balanced paper, based on the print solutions we have previously provided.
We are proud to offer our customers carbon balanced print, and carbon balanced paper-based packaging, bearing the Carbon Balanced Print logo.*** We can offset any European produced fibre-based material.
Furthermore, our simple eco-friendly printing service, is combined with high quality print, fast turnaround, and excellent customer service you'd expect from Galloways.
Call our friendly print team today on 01625 870000, and commit to Carbon Balanced Print – it doesn't cost the Earth.
* Source: Worldometers (data correct at time of writing)
**Source: Statista
***  Alternative Carbon Balanced logo/lozenge logo may be appropriate