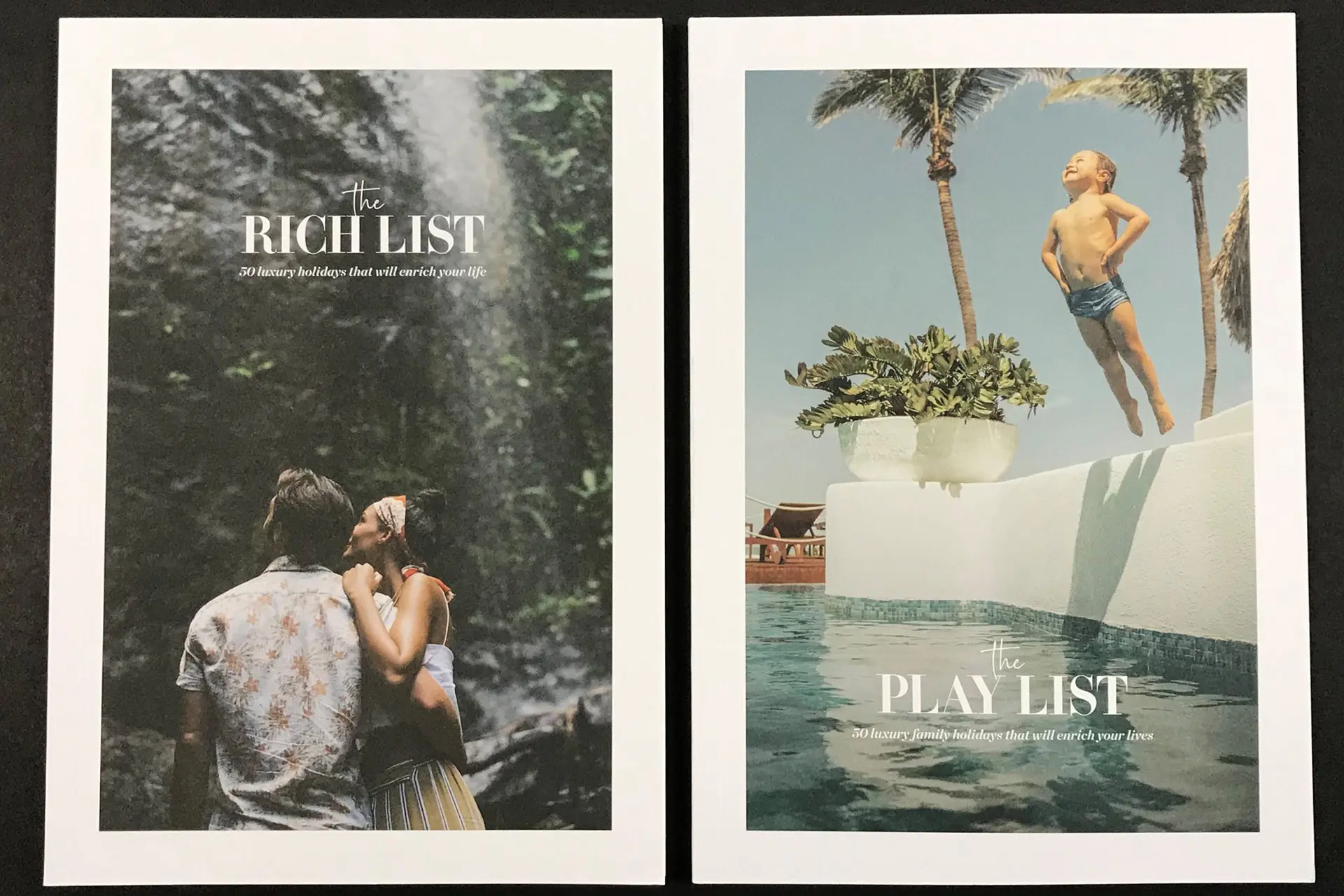 Print for the senses
Customer
Carrier Travel, part of Kuoni Group
Project
The Rich List & The Play List Fragranced Holiday Brochures
The brief
Luxury travel company Carrier, part of the Kuoni Travel Group, is a specialist in tailor-made travel to luxurious hotels worldwide. The company briefed Galloways to create a top end holiday brochure – with a difference. As an experiential brand, the company prides itself on offering its customers an immersive personal holiday experience from the moment they book until the minute they arrive home and unpack. The brief was to extend and sell this experience by unusual means.
The piece took the format of a high quality story-book format brochure, with a focus on the opulent, luxurious and aspirational locations and accommodation on offer.
In order to fully engage the customer from the second the brochure arrived, the client requested that the pages be infused with a fragrance that would evoke memories of an exotic destination as the customer turned the pages.
Our response
We were delighted to be invited to take part in this exciting project – which was a first for Galloways. From the outset, we worked alongside the customer and the design studio to devise the best way bring the concept to life – resulting in a stunning piece of work.
Our team visited a perfume specialist with the customer to select the fragrance, on a mission to discover a scent that would transport them to exotic climes.
We understood that it was essential to get the balance right – too much scent would be overpowering, whereas not enough could go unnoticed.
Using two large sheets to produce the brochure, we coated one side of each with perfume oil molecules, which were encapsulated with a specialist varnish. This translated to the front and back pages and every other internal page being perfumed.  When the customer receives the brochure, their touch will break the encapsulation and release the fragrance. We decide that the best way to include the scent was to infuse every other page of the brochure, which would then be released each time the customer flicked through.
A project to remember
From the initial meetings, we knew that this piece would be quite different to anything we had worked on before.  It was fantastic to be involved from the outset, and as a result we were able to advise on the entire process, from paper weights, various paper stocks and of course, the fragrance.
We were delighted to find out the brochure exceeded all expectations – it's a piece we're truly proud of.
The client's response
The customer – and their trade customers – were delighted with the finished brochure, stating that it had fully met the brief.
The team in the office grew to love the fragrance choice so much that they have now installed it in oil diffusers throughout the building.